The migration of traditional IT system to the cloud is slowly and steadily increasing. A Gartner research report shows, $111 Billion of IT spending has shifted to the cloud from on-premises and will increase to $216 billion by 2020. Many IT organizations are adopting "Cloud-First Strategies" as a foundation for staying relevant in a fast-paced world. According to Ed Anderson, research vice president at Gartner. A recent CISCO Report shows cloud traffic to jump 262% by 2020 and will touch 14 zettabytes (ZB) by 2020. Cloud traffic will represent 90% of the data centre traffic.
With the cloud, individuals and small businesses can snap their fingers and instantly set up enterprise-class services.
Roy Stephan- CEO/Founder PierceMatrix
Out of the three mainstays of cloud computing, SaaS (Software-as-a-Service) is one of the most popular among business organizations. Others are PaaS (Platform-as-a-service) and IaaS (Infrastructure-as-a-Service). In 2017 the Software-as-a-Service market is expected to grow 20.3% from 2015, with an expected value of $ 43.7 billion. SaaS market is huge and the opportunity is high to taste success with the use of SaaS applications for your business operations.
Why SaaS makes sense for Business Managers?
Since last few years, many software vendors are trying various marketing strategies to present the advantages of SaaS solutions in various forms. IT professionals, business executives, financial consultants are their target audience. Software vendors explain IT professionals about scalability, on-demand capacity, pay-per-use model, infrastructure management while business executives on how to use cloud computing for better customer service & more efficient business operations.
SaaS is not a recent technology. Web-based applications were the first SaaS concept. Earlier companies were focusing on Salesforce Automation, Customer Relationship Management (CRM) & Web Content Management by using SaaS model. But today many companies are using SaaS model to deliver various solutions. Apogaeis has the capacity to develop on-demand & customized business solutions for Human Capital Management, Sales & Marketing, Financial Reporting, Customer Support, Asset Management System and much more. Our SaaS custom build business solutions are highly functional & efficient backed by highly skilled expertise.
SaaS really makes sense for business managers, who are looking for latest capabilities with lower cost and without the worry of future business needs. There are many ways SaaS solutions can help your business. But there are 4 ways Apogaeis Custom SaaS Solutions can make your business operations optimized & your employee more productive.

1. Latest Features
What can make your team more productive? What can make your workplace more efficient? It is the latest features for your business applications which can allow your employees to perform their day to day work smoothly. Cloud Platforms always introduce new innovative features and optimized information for both internal and external use for your customers, partners, vendors etc. The traditional business applications require manual upgrades and healthy investment.
A SaaS business solution enables you to receive updates, software upgrades, and new functionalities as soon as they are released. This will enhance the efficiency and will give you latest business insights. SaaS solutions automatically updated to make your data more secure and useable. It automatically fixes all the bugs and makes the system seamless. You can also start using the new features immediately. SaaS solutions will allow you to have a vertical and horizontal look at your entire business processes which help to find right solutions to business problems.
2. Reduced Application Cost
This is one of the most important advantage of SaaS. Every business needs less application cost. It can even put a bigger impact on individual business units and as a result the entire business process. IT infrastructure cost, maintenance cost are always on the higher side. SaaS solutions can significantly lower these costs, which means you can invest your capital in other areas while having a secure and flexible business system. SaaS business models are usually subscription based and not only allow scalability but also tailored solutions for your specific needs. Very minimal initial investment and lesser hardware cost makes SaaS more popular among business units. Whenever you want you can add/remove users and also can control the entire business functionalities. This saves time, cost and incredibly lower your investment risks.
Apogaeis takes the responsibility of infrastructure, performance, scalability and security, which allows you to focus on your core job, setting up business strategies, focusing on more sales, and customer happiness without being worries for non-business related things.
3. Flexibility both for your Business & Users
Flexibility is one of the most important aspect for any business to complete at the higher level market. Businesses which are flexible with their strategy, culture & business model always carry a competitive advantage. The approach towards new applications, added features, system upgradation, and added users defines a business's flexibility. SaaS solutions provide a seamless opportunity of easy new user addition, feature customization and also a new customized business solution. As the backend and infrastructure are being managed by the service provider, no need for you to think about how to modify modules or features whenever required.
SaaS applications scale easily in both business and user perspective. It is designed to integrate many users to work together. As it is very easy to add new services and solutions without forcing any software, information can be shared easily between teams at any time from any device. Users can use this very easily as SaaS applications are very easy to understand & operate. Moreover, usually these applications are customized, so you can only see the modules, reports, and data from your concern department without much confusion.
4. Collaboration
This is the beauty, SaaS apps allow multiple users to work together at the same time under the same software suite. SaaS gives power to more than one user to work on the same document or a piece of module. In such cases, a collaboration between the users is highly desired. There are high chances that data can be stored or saved wrongly. SaaS is smart and allows users to save data intelligently without leaving any chance to lose data. No more emailing documents for review, systematic folders and master documents. All you can have in a centralized location. Think about Dropbox, one of the smartest cloud storage based on SaaS model. You never lose any data and allowed to work on your stuffs anytime and anywhere.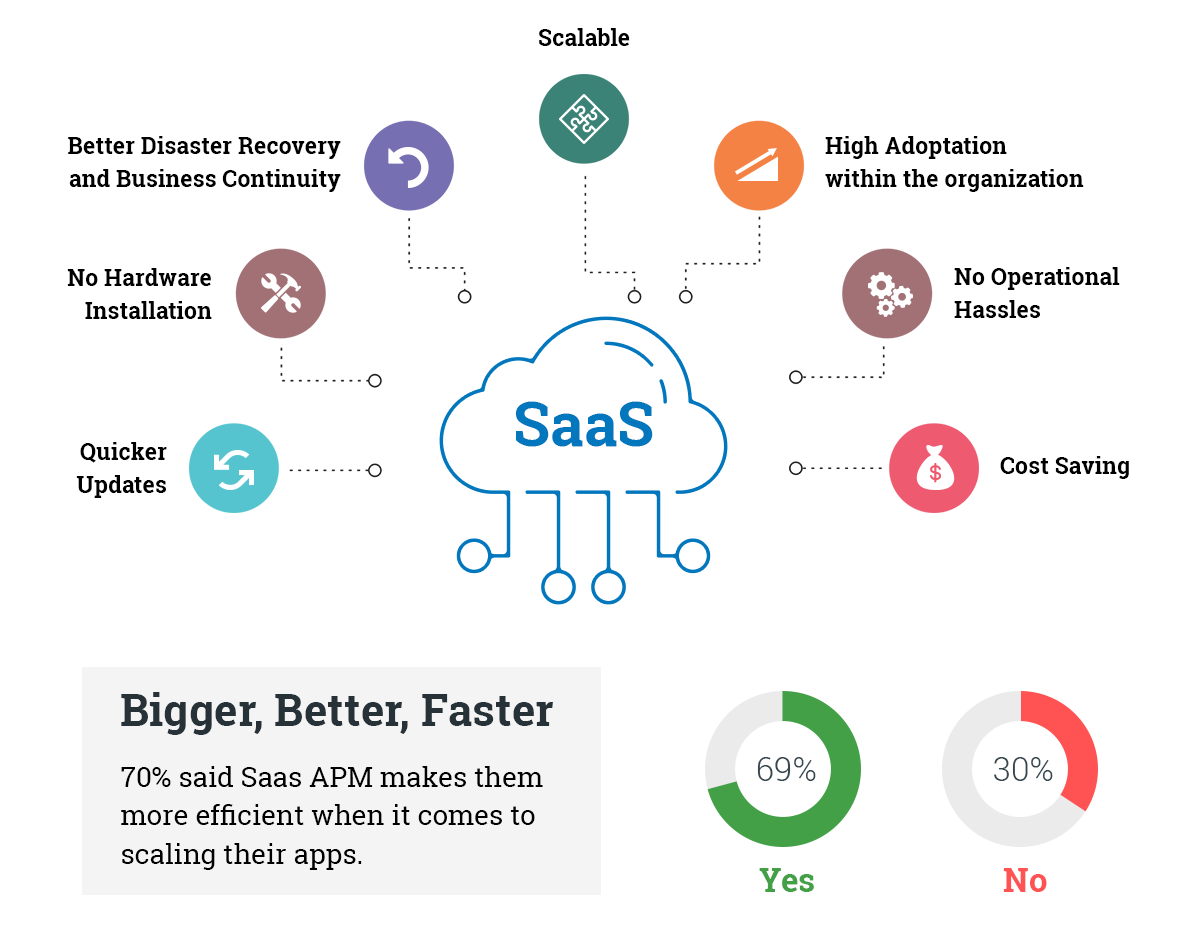 Collaboration between the IT team and the business team is very important. Business executives are driven by data. Their entire business strategies depend highly on reports, data or information. They always in the need of a proper business application. They always prefer to see the real time picture of the business. Here the question of IT infrastructure arises which need to be addressed by the IT people. Installation, upgradation, migration, testing, developing will end up losing some project time or even entire project. SaaS applications deploy very quickly, without any infrastructure management or maintenance. These applications are powerful, efficient and fully functional which can be used directly by the business team every day without any dependencies on the IT department.
Conclusion
Cloud based business applications using SaaS model are in high demand, as it priced on a subscription basis and having a clear number of business advantages. Traditional business applications are slowly going out from current IT plans of many companies. The ability of quick deployment and gamut of capabilities with lower investment risk has made SaaS solutions the first choice for many business managers. Companies are continuously looking for solutions which can fulfil the organizational requirement with data security on high priority, IT departments choose SaaS solutions which are the best fit in this case.
Apogaeis is one of the top most Cloud service providers to many global clients. Our cloud solutions are industry-specific, robust and cost effective. Our custom build SaaS based solutions are faster which can be deployed quickly with lower upfront cost and zero risks. Are you willing to learn more about SaaS? Click here to talk to subject matter expert.